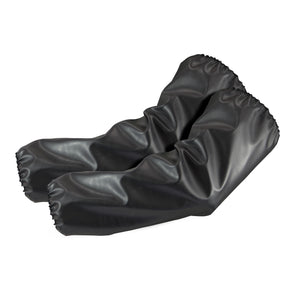 PGI
Protective SBR Sleeves | Lightweight Single Coated Styrene-Butadiene (SBR)
20000-00-170098
Regular price
$ 9.74
$ 0.00
Priced Per Pair - Sold By The Dozen Pair
Description
Add the extra arm protection without restricting your range of motion. PGI's Protective  Sleeves are made with a lightweight, single-coated SBR and construction that provides added protection without compromising breathability. 
SBR has excellent physical properties and abrasion resistance and provides good protection from water, many chemicals, organic acids, alcohols, ketones and aldehydes. It has poor resistance to petroleum-based fluids, ozone, strong acids, fats, oils, greases, and most hydrocarbons. SBR also has extremely high resistance to electrical conductivity and can withstand cold up to minus 60⁰F and heat up to 225⁰F. Due to SBR's excellent abrasion resistance and aging stability approximately 50% of all car tires are made from various types of SBR. PGI's lightweight black single coated SBR lab aprons offer excellent protection from water and many chemicals and caustics in an extremely durable and long lasting apron.
Priced per pair - sold by the dozen pair.
Specifications
Fabric: Single coated rubber polyester – thickness approx. 15-17 mil
18" Long seamed with safety stitch
¼" polyester elastic secured at cuff & upper arm with serge stitch
Cuff circumference 8" to 10½"
Upper arm circumference 10" to 15"
Good protection from water, many chemicals, organic acids, alcohols, ketones and aldehydes.
Elastic both ends
Available in black
Priced per pair - sold by the dozen pair
Chemical Resistance Chart
---
Share this Product
---
More from this collection